Repairing
A VILLA,
Restoring
A LIFE
Writer Angela Correll is under a deadline to finish her second book, anxiously approaching her fiftieth birthday, and still reeling from a string of painful losses when she and her husband follow a dream and buy an ancient house inside a tiny Tuscan village. Angela soon realizes that her dream home needs more than a little TLC—this is a full-scale renovation that will stretch her patience (and budget) to the limit.

Follow Angela's journey as she restores her home to its former glory and heals her heart in the process. Along the way, you'll experience all the charm and romance of Tuscany—leisurely meals with new friends, interesting and loveable locals, exquisite art and architecture, and the beauty and splendor of the Mediterranean.
RESTORED IN TUSCANY INCLUDES: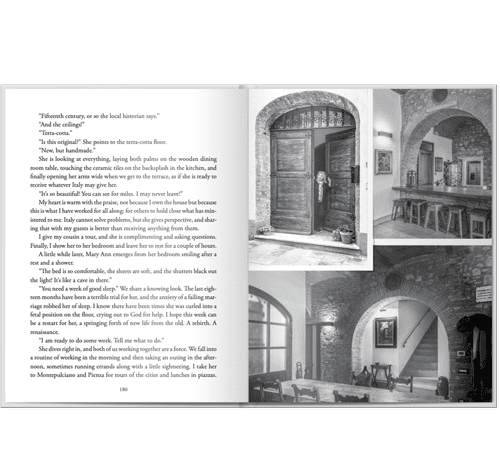 Inspiration to look for beauty throughout life's ups and downs
Stunning photography of Tuscany
A peak at the idyllic Tuscan life. Book club discussion questions included!
Invite your book club to experience Restored in Tuscany together. When you preorder your copy, you'll get exclusive extras for your club to enjoy, including:
delicious recipes to help your group experience a taste of Tuscany
downloadable book club guide with tips for hosting an engaging group
access to enter and win a live, virtual visit from Angela to your club
ACT NOW (see form below)
OFFER ENDS 3/4/24
SALUTE ("cheers" in Italian) for RESTORED IN TUSCANY
"What begins as a love letter to Italy transforms ever so gently into a beautifully calibrated story of change, a seemingly simple journey—the awakening of the body, the mind, and the human spirit. In the wise, capable hands of Angela Correll, every page delivers another lesson through a slice of idyllic Tuscan life."

—LINDA BRUCKHEIMER, novelist, philanthropist, and preservationist
"This is a terrific book. Angela Correll has given us an insightful, funny, and meaningful look at what it really takes to rebuild an ancient abode in a hilltop town in Italy: a very big heart."

—BRET LOTT, New York Times bestselling author
"Restored in Tuscany is a delightful and meaningful read. As I was caught up in the story of the restoration of an ancient building, I was also challenged by the possibilities of restoration in my own heart. May those who read this book find the flourishing life God has designed for every one of us."

—TODD HARPER, cofounder of Generous Giving
I was inspired to look for beauty in all of life as Angela's words painted images I could taste, see, smell, and feel. Her life's ups and downs and her celebrations and sorrows became gifts of healing for my pain and gratitude for my peace. Her mom was my mom. Her fears my fears. Her joys my joys."

—BOYD BAILEY, author, founder of Wisdom Hunters
"This book is an invitation to dream amid adversity and is infused with truth, vulnerability, and wisdom. Angela's words invite us to take courage for our lives as we look over her shoulder and through her heart as we pursue our passion and potential."

ASHLEY MARSH, designer and co-founder, Marsh Collective.
Angela Correll has a 25 year love affair with Italy and is the author of Grounded, Guarded and Granted, a trilogy of novels that have been adapted to the stage and played for sold-out audiences in her home state of Kentucky where she lives with her husband Jess. Together they are founders of Wilderness Road Hospitality, which includes a collective of charming lodging, dining, and retail establishments all located in historic Stanford, Kentucky.